Although we've all seen it coming, and it's not really news, still, why has the huge push for aero suddenly seemed so front and center? As most of us have witnessed over the years, the bike industry has poured what seems like an endless stream of aero-optimized products into the market that promised both marginal and magnificent gains. Everything from helmets, kits, shoes, bikes, wheels and even water bottles have all played a role in the sport's aero-palooza. And, what they all have in common is some level of alteration or compromise (versus non-aero parts) that is intended to obtain some mysterious aero advantage. Sure, we can all get geared up in the latest aero-refined products and claim they feel faster, but for most recreational cyclists, it's almost impossible to really know if any combination of products is really offering any measurable advantage.
As contemporary as the aero craze may seem, the battle against the wind has been around for as long as cyclists have found themselves caught out in the wind, as in since day one! In short, as much as the industry now obsesses over integrated aero handlebar shapes and Kammtail frame tubes, cyclists have been searching for aero optimization for decades. Interestingly, for every sensible aero idea that's come down the pike there's been an equal number of silly ones that were quickly cast aside. We still shudder thinking back to the days when a handful of big-name bike brands began mounting their rear brakes under the chainstays for some ill-conceived aero gain! Thankfully, that fad was a short-lived one.
"We still shudder thinking back to the days when a handful of big-name bike brands began mounting their rear brakes under the chainstays for some ill-conceived aero gain! Thankfully, that fad was a short-lived one." 
Of course, as much as most recreational cyclists look favorably on being able to go faster in the wind, it's the products used by racers vying for faster times who've always pushed consumer trends. Think back to Greg LeMond snatching back eight seconds from Laurent Fignon to win the 1989 Tour de France, thanks in large part to the wild-looking Scott handlebars (designed by Boone Lennon) that exploded in sales after the race. And speaking of the influence of racers on the rest of us, one needn't look any further than the current pro peloton to find riders (and already some production bikes) opting for narrower-width handlebars for the sole purpose of decreasing the rider's frontal area no matter the impact on proper ergonomics or comfort.
THE AERO ARMS RACE
We still recall asking a Specialized product manager at a Tour de France time trial a few years ago why they hadn't made many changes to their TT bike over the previous year. The reply was simple: "Going fast is expensive!" Such were the days when the best way to verify speed gains was only by spending time in a wind tunnel, which is not cheap.
While the big brands have the resources to play in the wind tunnel, for smaller brands it's never been economically feasible. However, starting around 2010 when the advances in computer-simulated technology evolved, many bike brands could now run thousands of aero tests without ever leaving their desks. Not only did this significantly speed up the evolution of products, but it also lowered the price of development as companies no longer needed to produce an actual product to test it.
"Given the UCI regulations regarding frame shapes that have limited aero advances in the road world, it's been the triathletes (free from UCI dictates) who've provided the most advanced aero thinking and designs." 
This led to what many would consider the fastest evolution in go-fast cycling products, as every component, frameset and accessory could now easily (and cheaply) be optimized to reduce drag. Then we had a bit of an industry-wide pause in regard to aero as companies struggled to find ways to reduce drag numbers. Brands like Zipp, who have historically prioritized aero over everything, were stuck looking for other ways to manipulate the numbers. Specialized, Giant, Cannondale and the rest of the bike brands found themselves in a similar situation and moved their focus to the growing world of gravel, leaving aero on the back burner but implementing as much of the wind-cheating knowledge across multiple disciplines.
OUTSIDE INFLUENCES
Given the UCI regulations regarding frame shapes that have limited aero advances in the road world, it's been the triathletes (free from UCI dictates) who've provided the most advanced aero thinking and designs. If there are two names that are most often associated with bringing tri-bike design theories to the road world, it would be Steve Hed and Jim Felt. As tri geeks themselves, starting in the late '80s,
they each began bridging the aero divide between the two venues (with wheels and frames respectively) with great commercial and racing success.
The design and technology freedom afforded to triathletes was never more evident than this year when BMC, Felt and Giant/Cadex each rolled out exotic tri bikes that took aero design and theory to a radical new level. And proving the worthiness of the effort was when Kristian Blummenfelt used his step-thru Cadex Tri frame to win the Ironman World Championships in St. George, Utah.
While gravel riding in and of itself isn't concerned with aero discussions, when it comes to winning gravel racing, we've seen top riders just as convulsed with aero efficiency as any road racer. In fact, some have said that as gravel racing grew in popularity, it's also been one reason that aero is making a comeback. Whether you like gravel or not, the off-road side of things has helped push the evolution of many new aero-optimized products, theories and components that impact road-specific gear. Disc brakes are probably the most notable change that helped unlock a new world of rim and frame design options.
Beyond introducing larger-volume tires to the masses, gravel has more importantly started the deep dive into the relationship between air volume, rolling resistance and real-world riding surfaces. It was then that many old-school rules on how to go fast got tossed out, and both companies and consumers alike began to realign
their compasses.
MODERN AERO?
So, what is modern aero? Modern interpretations of what's aero now looks beyond the bike itself, and now includes the rider, bike, components and gear as a total system. It puts less priority on maximizing a single aspect or component, and instead how they all work together. Nathan Schickel from SRAM said, "Product optimization has led to slower total systems." What he is saying is that if Zipp makes the fastest and most optimized wheel on a computer but doesn't account for the tire, bike, road surface and everything else a rider might experience on the road, then it is not the fastest anymore.
"While gravel riding in and of itself isn't concerned with aero discussions, when it comes to winning gravel racing, we've seen top riders just as convulsed with aero efficiency as any road racer." 
This new standard for testing is important, because a typical road rider is 75–80 percent of the total system drag. When the bike and its components are optimized to work together with the rider, the results are far more significant. The fastest bike sitting alone in a wind tunnel might not even rate among the fastest bikes with a rider on the saddle, and without a rider, it's not going anywhere.
WE DIDN'T HAVE IT ALL WRONG
Looking back at the history of aero, we weren't completely wrong about the theories to limited testing technologies. A low and narrow riding position is fast, and even in modern racing you will see the riders at the front who are doing the heavy lifting who are optimizing their fit to reduce their physical drag. For professional-level racing there are a variety of design regulations, which has limited progress. For the rest of us, there are no such restrictions, and we are free to super tuck or run any combination of components or riding position for an advantage.
There is no doubt that most cyclists are always looking for ways to improve their speed. From power to speed todistance and beyond, we all have ample opportunities to improve. While aero might seem like it could sit much lower on the list of priorities, it shouldn't. From what we have been told, every brand claims the aero advantage starts between 9–12 mph.
WHAT DOES THE FUTURE OF AERO LOOK LIKE?
It's hard to say where things will go but undoubtedly more refinements will continue to be made across all disciplines of cycling. With new mobile aero sensor technology, some wonder if cycling is going to be more like F1 racing with the ability to make in-the-moment changes to the ride. This, paired with live power data, live tire pressure data and advanced analytics technology, will be able to be delivered in real time and would add a new dimension to racing. This technology will also be more accessible so smaller brands can make big improvements without needing to head to a wind tunnel. The more interesting thing is how much of this technology is already available to us, the average rider.
Sure, too much data can take away from the simple enjoyment of pedaling and distract from the bigger picture of simply having fun on a bike. But, cyclists of every stripe should realize that there is room for both. Currently, we are seeing brands looking at different ways to manipulate the air as it moves past the bike, components and rider (see Trek's IsoFlow Madone, page 48). Other brands have reduced weight by refining frame tube shapes. Everyone continues to also put a huge priority on optimizing the carbon layup in an effort to reduce weight, but, more important, leave more room for building in compliance, along with tube shapes that are slippery.
The biggest and most evident aero adaptation is already here, with most bikes now running fully internal routing for brake lines and shift housing. Let's also not forget that science (as popularized by Gerard Vroomen) has shown that losing the front derailleur and running a 1x drivetrain can also bring added aero benefits. With both his 3T and Open brands, Vroomen has also experimented with tubes that are specifically designed to pair with certain tire sizes and wheel depths as a system. And, if considering the aero detriment of a front derailleur seems odd, consider that even water-bottle placement has become part of the aero debate.
"With new mobile aero sensor technology, some wonder if cycling is going to be more like F1 racing with the ability to make in-the-moment changes to the ride."
The most obvious adaptation of aero refinement will be the same thing that Look Cycles has done for years by designing component-specific bikes where the handlebars, stems and even cranks are optimized to work together, and specifically for that model frameset. While the "system" approach can be a compromise in convenience and compatibility, it is one we think many brands will follow.
At the end of the day, we can all be assured that the bike industry will continue to deliver products that claim to be faster than what came before. They might perform better under specific conditions, but we think the priority for improving as a system is going to lead to more significant changes. What would be really good to see is cycling computers that analyze your riding and help you refine your position and identify opportunities while you're riding. The one thing that we have learned is a sharp edge doesn't cut through the wind like we thought it once did.
12 BEST 2023 AERO ROAD BIKES
LOOK 795 BLADE RS
The 795 is the French brand's aero road bike, and the frame is 300 grams less than its predecessor. The frame will fit up to 30mm tires. The top-line bike runs a SRAM Red AXS drivetrain with Corima wheels and sells for $11,000, but the Blade family starts at $3250. A frameset option is also available for $4000.
Price: $11,000
BIANCHI OLTRE XR4
When it comes to top-flight racing bikes, Bianchi has a stable of performers that includes the shapely Oltre XR4. With a 12-speed Shimano Ultegra drivetrain, there's also a one-piece Vision Metron handlebar/stem and an Italian wheel package of Fulcrum hoops wrapped with Pirelli rubber.
Price: $9800
BMC TIMEMACHINE
BMC redesigned the Timemachine to decrease air separation and keep air flowing across the back end of the frame and built in a storage module beneath the integrated bottle mounts. Even the front brake rotor has its own wind-cheating fairing.
Price: $12,799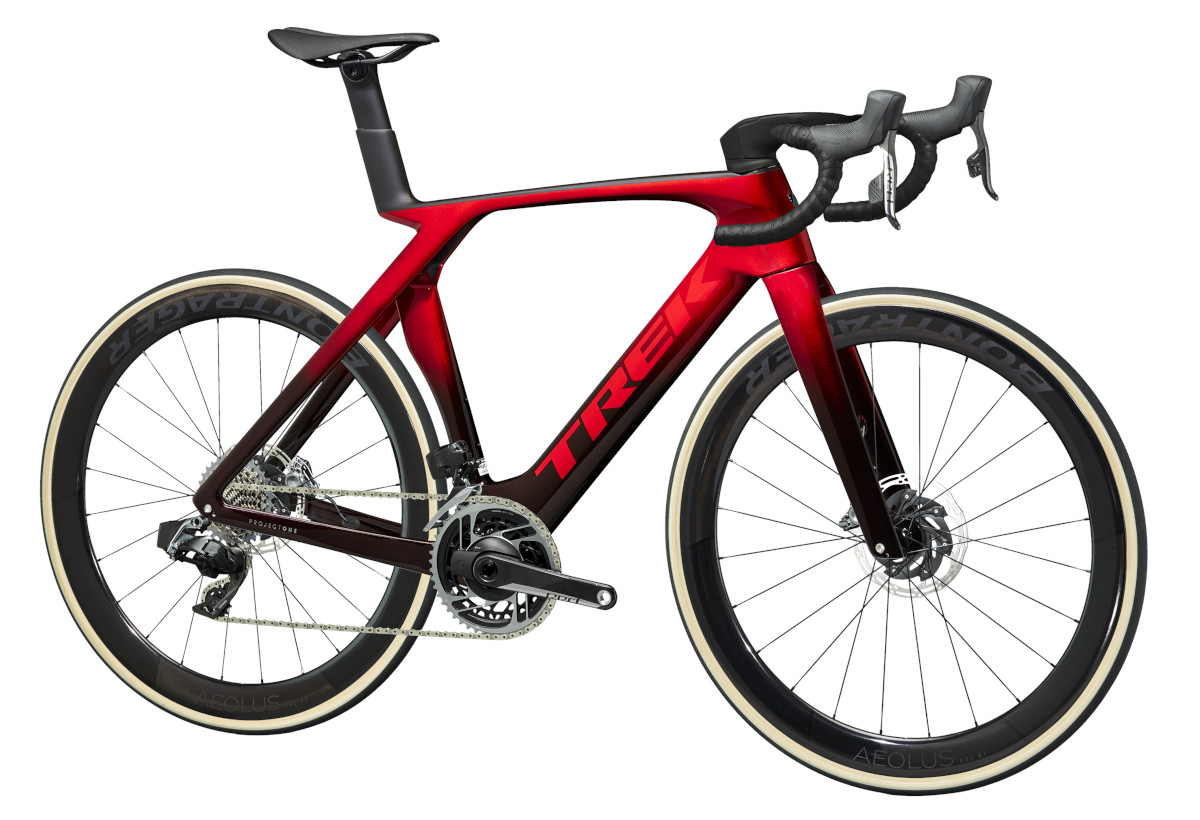 TREK MADONE
By combining refined Kammtail shaping for the frame tubes with the new SLR handlebar/stem combo, Trek claims a 19-watt energy savings or 60-seconds-per-hour faster than the previous generation (measured at 45 km/h). Trek said that of those 19 watts saved, 9.3 watts come from the bike itself and 9.7 watts are derived from a position change of the rider thanks to the new handlebar/stem.There will be six Madone models available ranging in price from $8000 to $13,200, and yes, unfortunately for anyone living in yesteryear, the bikes are dedicated to both electronic drivetrains and disc brakes. In fact, in another tip to modernity, the front derailleur can also be removed for anyone looking for the added aero benefit of running a 1x drivetrain.
Price: $8000

CANYON AEROAD CFR
The Aeroad has made huge strides with its shapely new design that cuts weight at an impressive consumer-direct price. Sure, $9000 is a huge budget hit, but the Aeroad starts at $3999. The impressive top-tier model hits the scale at a claimed 16 pounds.
Price: $9000
BLUE CHINOOK G2
The new Blue Chinook G2 is constructed of Toray T800 carbon and is available in a range of electronic and wireless groupsets from Shimano and SRAM. The G2 frame has room for up to a 34mm tire, as well as an ACR 1.5-inch head tube, providing full internal cable routing. A SRAM Rival AXS 12-speed build sells for $4800, while a Chinook built with 12-speed Shimano Ultegra Di2 lists for $6399.
Price: $8499

FELT AR FRD
Felt has been a leader in pushing the aero platform, and they've upgraded their AR line with new wind-cheating features, and Felt unveiled two models of the AR platform, AR Advanced and the AR FRD. Prices start at $5549 for a complete bike, and the AR FRD frameset will set you back $4999.
Price: $15,049
ORBEA ORCA AERO
Orbea's Orca Aero continues the Spanish brand's eye-catching legacy with a unique blend of an aesthetically pleasing and watt-saving design. We were drawn to the in-line aero water bottle and downtube storage container that doesn't disrupt the clean lines of the frame. Our favorite tech features include clearance for 30mm tires and compliant ride characteristics.
Price: $7599
PARLEE RZ7
The RZ7 is East Coast builder Bob Parlee's flagship performance road model. Colors are stunning with a new Platinum Metallic. The RZ7 includes all-new Parlee-designed carbon cages, an integrated out-in-front computer mount, as well as most models rolling on Enve Foundation wheels.
Price: $7000–$10,000

SCOTT FOIL RC
Scott engineers and designers are redefining what an aero bike can be, and claim a 1-minute, 18-second gain over 40 kilometers compared to the previous Foil. With a focus on the bike, components and rider as a system. Scott has a 30-percent reduction in the number of carbon pieces and joints used compared to the previous Foil RC for an incredible sub-16-pound build. 
Price: $9499
3T STRADA TEAM
Since its release in 2017, the Strada had to overcome doubt from consumers concerned about the 1x gearing and disc-brake-focused wheel designs, but industry-wide evolution of such tech designs have only proven that the 3T was ahead of its time. For 1x skeptics, 3T now offers a 2x version as well. The 1x Strada was designed to optimize a 13-speed drivetrain and now have it with Campagnolo's Ekar drivetrain.
Price: $4999
CIPOLLINI RB1K AD.ONE
Blending time-trial design cues and oversized tubes, Cipollini's AD.One is as shapely as the former world champ Mario himself. Handmade in Italy, the flagship model features Campagnolo Super Record EPS, but six models are available, and you can customize your build through the MyCipo frame personalization tool.
Price: $6390 (frameset)