Q: I have recently upgraded to the new Shimano 12-speed Di2, and as I love to tinker with my bike and do my own repairs, I was wondering if there are any new tools I might need and what changes should I know about?
A: Congratulations, Shimano's new semi-wireless offering is a nice upgrade, and it's always a bonus when you get an extra gear. There are a few changes that might validate a trip to the tool shop. The first and most significant are the new Di2 EW-SD300 (aka Gen2) wires that connect the front and rear derailleurs to the battery are smaller. It is more important than ever to use the proper tool to disconnect or reattach the wires.
Your local shop probably has a few of the new Shimano TL-EW300 tools kicking around. It has been the standard for Shimano e-bikes for a while. They are slightly smaller than the original TL-EW02. Park Tool also makes the EWS-1 tool that is useful for eTap and Gen1 Di2, but it still needs to be updated to fit the new and smaller Di2 connectors. All of these tools are fairly inexpensive, so don't stress about it too much.
The next tool you may need is a 12-speed-compatible chain breaker. There are plenty of options, but you want to make sure the one you have is compatible. If it's not, it will enlarge the pin hole and damage the chain. Shimano has also moved to using a quick link, also known as a master link. This makes removing a chain much easier. If you don't have a pair of master-link pliers, I would say that is a good thing to have, too.
Overall, the new Shimano offerings are more similar than they are different when it comes to tools. The only other update is the new charger cable that should have been supplied with your bike. I like to keep a spare one in my car in that rare case I have a flat battery before a ride. A quick charge from a car or portable power pack will get you through a typical ride; however, it might just delay your start by 15–20 minutes.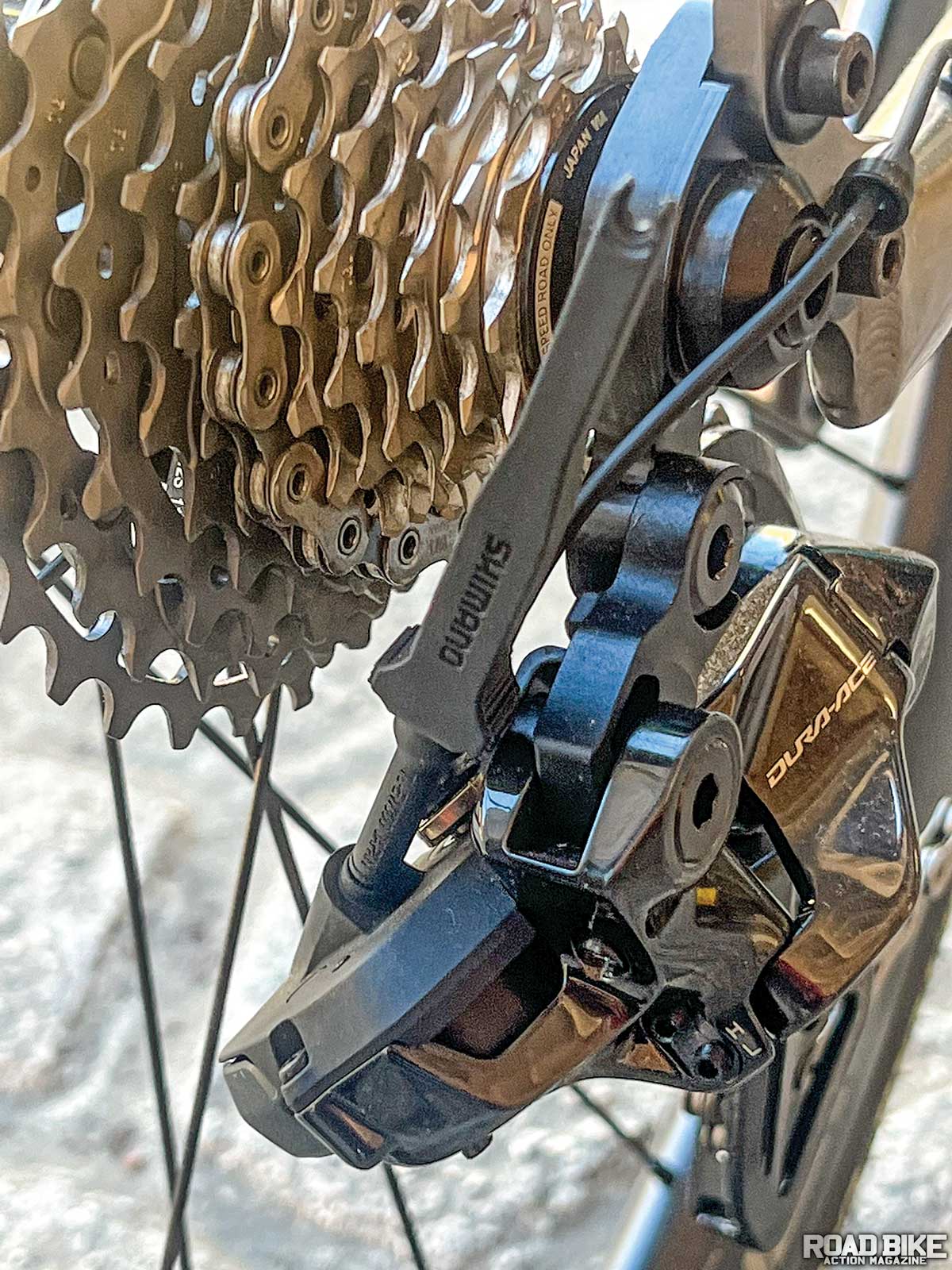 Q: Quick question, how do I get my new Shimano Di2 bike to stop shifting the front derailleur automatically?
A: In addition to the full manual mode, there are two auto-shift settings for Shimano's electronic gruppo. It sounds like you are in the Syncronized Shift mode that automatically shifts the front derailleur in accordance with the shifts you make up or down the cassette. This makes it so you never really need to use your front shifter button. The other is Semi-Syncronized Shift mode, and it automatically selects the rear derailleur gear position to obtain the optimal gear-step transition when the front derailleur is shifted.
There are a few ways to change this or even customize it. You can use the E-Tube Project app that connects over Bluetooth to compatible derailleurs. On 11-speed Shimano Di2 builds you needed the Bluetooth adapter, but for 12-speed it is built into the system.
With the app you can change a lot of the settings and customize when those auto shifts happen. In a similar manner, there is a plug-in tool that is normally used by shops to make these changes without the need for Bluetooth.
The fastest and easiest way to change modes is using the physical buttons on the components. It works the same on 11-speed and 12-speed, but the buttons are in different locations. For 11-speed, the button is on the charging-port plug. For 12-speed, the button is on the rear derailleur. If you double tap the button it will cycle to the next mode. With only three modes, it is easy to get to the one you want quickly without any tools or devices.