It was back in 2012 when we were first introduced to the  Cannondale EVO  and in the years since we've ridden plenty of new iterations, and each time coming away impressed with the lightweight bikes that would later become the basis for the earliest days of Peter Sagan in the Pro peloton.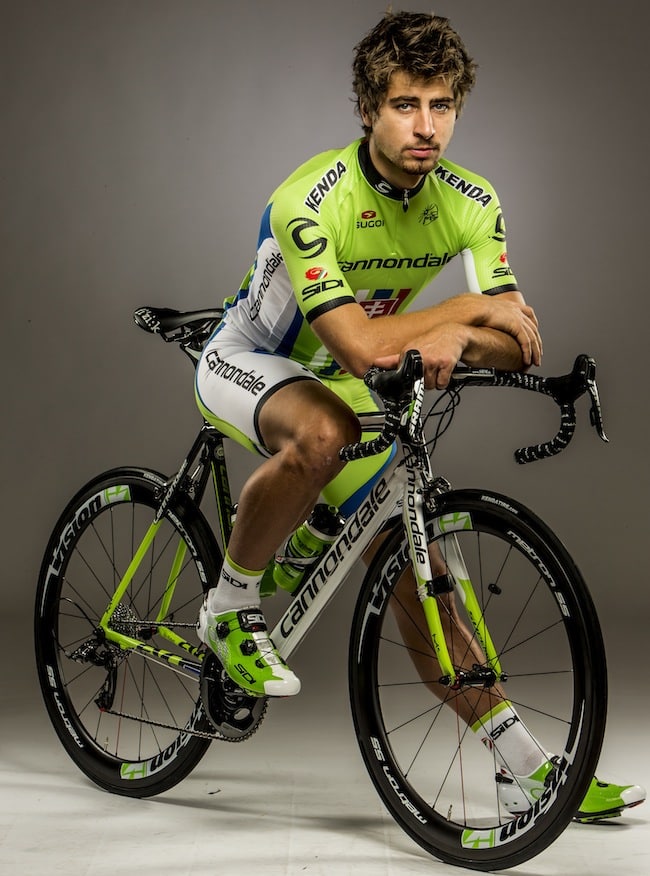 And now just over a decade and three Evo versions since, Cannondale is once again rolling out a new (13 model strong) family of SuperSix Evo road bikes. In addition to their legacy road bike, Cannondale is also introducing a new level of prestige models that will roll under the  Lab 71 umbrella . The name "Lab 71" is a tribute to the brand's origins making bike trailers in Connecticut and will now be Cannondale's prestige level of bike and eventually be represented in gravel, mountain  and e-bike versions.
THE SUPER SIX BEFORE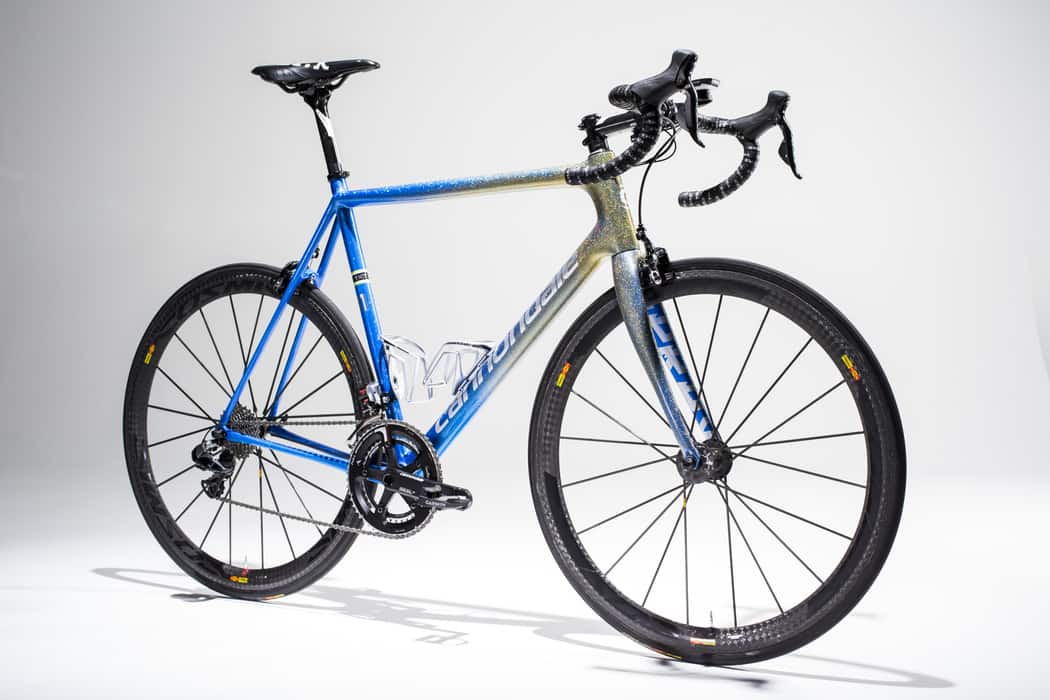 THE NEW SUPERSIX EVO

Press Release
Cannondale ushers in a whole new era of speed, with the launch of the completely evolved SuperSix EVO road racing bike. "We've redesigned the SuperSix EVO to be faster everywhere," says Sam Ebert, Cannondale Road Bike Product Manager. "When we developed the new SuperSix EVO, we knew it had to be top-of-class when it came to weight and aerodynamics, but even more importantly, it needed to maintain the qualities for which it's become legend: handling, speed, and an unbelievably smooth ride. The result is a machine with the drag reduction of an aero bike that's even lighter than its predecessor."
Introduced more than a decade ago, SuperSix EVO has remained a pillar of Cannondale and the pro peloton, consistently representing the pinnacle of road racing innovation. The 2023 SuperSix EVO sets the benchmark for speed and performance higher than ever before.
AND NOW LAB 71 HAS ARRIVED

2023 also marks the introduction of LAB71, a new tier of Cannondale products representing the highest expression of craftsmanship and the culmination of more than fifty years of cycling innovation and design. LAB71 is a new frontier of performance, reached through elevated engineering, materials, and finishings. LAB71 bikes look, engage, and perform like nothing else out there – and the new LAB71 SuperSix EVO is the first of what's to come.
For the new LAB71 SuperSix EVO, Cannondale tapped the same team of aerodynamicists and engineers that created the ultra-fast SystemSix aero road bike, and they followed a similar, fully systemized approach to designing the new EVO.
The frameset, seatpost, bars and wheels were all designed in unison. Each is superlative in its own right, but they're engineered to enhance the performance of the whole when ridden together. Through thousands of CFD (Computational Fluid Dynamics) iterations and weeks of wind tunnel work, the team focused on maximizing
the areas with the highest potential for drag reduction, while paring back everything else to deliver full aero-bike performance, without the aero bike weight.
Cannondale's new Series 0 carbon construction found on the LAB71 SuperSix EVO makes use of cutting-edge materials and processes rarely seen in the bike industry due to their complexity and cost. This advanced fiber and nano-resin composite has exceptional tensile and compressive strength properties, which allow Cannondale
engineers to achieve more with less material. The result is a frame that weighs just 770 grams for a fully painted and build-ready size 56cm, while also reducing drag and improving the responsiveness, ride, and handling of the previous generation. With its curated selection of components, the complete the LAB71 SuperSix EVO tips the scales at the UCI minimum at 6.8 kg (14.99 lb).
Furthermore, thanks to refined tube shapes and a fully systemized design, SuperSix EVO saves a full 12 watts of power at 45 km/h (28 mph) over the previous version. The result is a race machine that will run with the pure aero bikes on the flats, and dance with the pure climbing bikes in the mountains. It's the next evolution of road racing
speed.
As part of their system-integrated approach, Cannondale collaborated with legendary motorsport design firm, MOMODesign, on the SuperSix EVO's fully-integrated SystemBar R-One carbon handlebar and stem. Using the drag-reducing shapes honed by Cannondale's engineers, they brought a new level of ergonomic refinement and style to the cockpit. The all-new Cannondale HollowGram R-50 wheelset was also developed alongside the EVO.
The exceptional blend of low weight and aerodynamic efficiency make the HollowGram R-50 wheels ideally suited for the new EVO's faster-everywhere mission. Even the new Gripper Aero bottles and ReGrip Aero Cages make the new EVO faster by aligning perfectly with the frame shapes, smoothing air flow and reducing drag. The cages will accept any standard round water bottle, as well.
A new Delta steerer tube design delivers fully concealed cable routing, while reducing the headtube frontal area for improved aerodynamics. A threaded BSA bottom bracket shell keeps things familiar and simple, and with the ability to accommodate tires up to 30mm wide (with a full 6mm of clearance on each side), SuperSix EVO is ready to race
and train day in and day out.
For those long training days, the new EVO is compatible with Cannondale's SmartSense, an intelligent system of lights and rear-facing radar that helps riders stay visible and aware of their surroundings, including for approaching vehicles.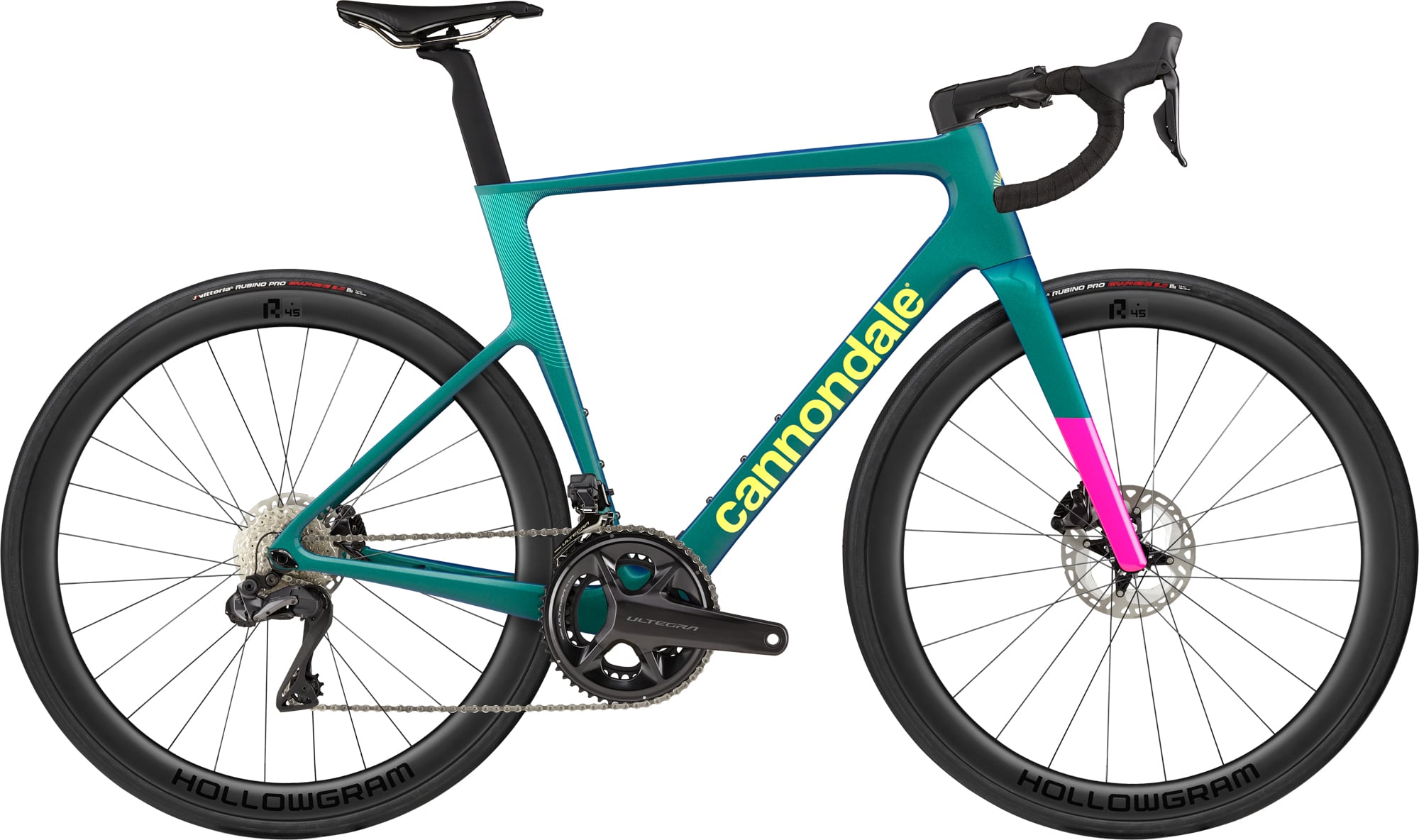 The all-new LAB71 SuperSix EVO will be available as a frameset (sizes 44 – 58) and complete bike (sizes 44 – 61). SuperSix EVO Hi-MOD will be available in two models, sizes 48 – 61. It will also be available as a frameset (sizes 44-58) SuperSix EVO Carbon will be available in two models, sizes 44 – 61. The MOMO Design SystemBar R-One will be featured on LAB71 and Hi-MOD 1 models. SuperSix EVO retails for $5,500 – $15,000 USD with framesets starting at $4,500 USD.