FACTOR OSTRO GRAVEL VS FELT BREED CARBON – GRAVEL BIKE SHOOTOUT
A NEW GENERATION OF GRAVEL RACE BIKES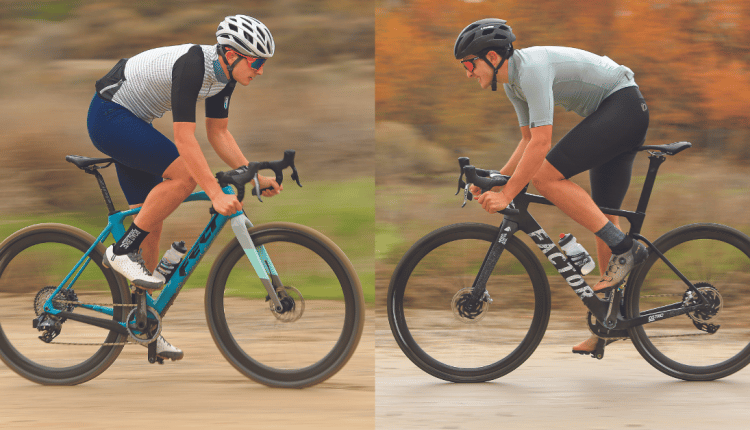 As a segment, gravel riding has evolved from a niche, often-overlooked activity usually conducted on a cyclocross or just a road bike to the fastest-growing non-motorized cycling discipline. Along the way, we've witnessed further development and segmentation within gravel itself at a rapid pace. From monster gravel bikes with suspension and dropper posts to svelte, aero-optimized race bikes, the bike industry was quick to create platforms to meet the needs of riders for a wide variety of dual-purpose riding. 
As the discipline has grown, so has the quality of the racing and the bikes designed to be raced. Since gravel pioneer Dan Hughes' 12:58 winning time at the Dirty Kanza in 2006 (now known as Unbound Gravel), speeds have risen and times have dropped to meet Colin Strickland's sub-10-hour performance in 2019. In an effort to address the desires of racers and meet the needs of those looking to take advantage of the latest advances in frame design, bike manufacturers have begun to adopt many of the same aerodynamic designs used on the road for their flagship performance gravel bikes. That would include the two bikes tested here. 
THE BRANDS
Southern California-based Felt Bicycles brings a new performance gravel bike to the market with the Breed Carbon. Founded by former factory motocross mechanic Jim Felt in the early '90s and celebrated for the aero designs that brought multiple Kona Ironman wins, in the last few years the brand has bounced between different owners before finally finding its current home under parent company Pierer Mobility. This is the same group that controls the KTM and Husqvarna motorcycle brands, and their track record of bringing serious performance technologies to the motocross and MotoGP communities has them now looking to shift the brands into a higher gear for a focused effort on road and gravel racing. 
Best known for their premium road bikes (as seen under WorldTour rider Chris Froome and the Israel Start-Up team), given the surge in popularity of pro gravel racing (and newly gained UCI World Championship status), it was unsurprising to see Factor throw their hat into the ring of gravel race bikes with the Ostro Gravel. Based in Norfolk, United Kingdom, the high-end bike brand has relied on a handful of sponsored riders' feedback from the front of the biggest races in the country. These riders were the ones to convince the brand's engineers of the value aerodynamic designs could bring to the front of races. Jukebox Cycling rider Adam Roberge won Gravel Worlds last August aboard one of the first Ostro Gravels produced.
THE FRAME
Felt
As the name implies, the Breed Carbon is a carbon-framed gravel bike that joins the aluminum Breed 20 ($2949) and Breed 30 ($2395) as the sole black plastic gravel rig Felt offers. At first glance, the sculpted frame and dropped drive-side chainstay highlight carbon's workable qualities. The sea-foam gradient on the fork complements the turquoise frame. With clearance for 700x50mm tires and mounts for four bottle cages plus a top tube bag, the frame gives the impression that Felt is bringing a sense of utility to its race-focused platform. 
Geometry-wise, our size 54 has a slack 71.5-degree head tube angle and a long 104cm wheelbase. Reach is fairly average at 38.5cm and stack is tall at 58.5cm. The numbers confirm that Felt was looking to appeal to the average road racer with a gravel bike that would be stable at speed and provide predictable handling characteristics.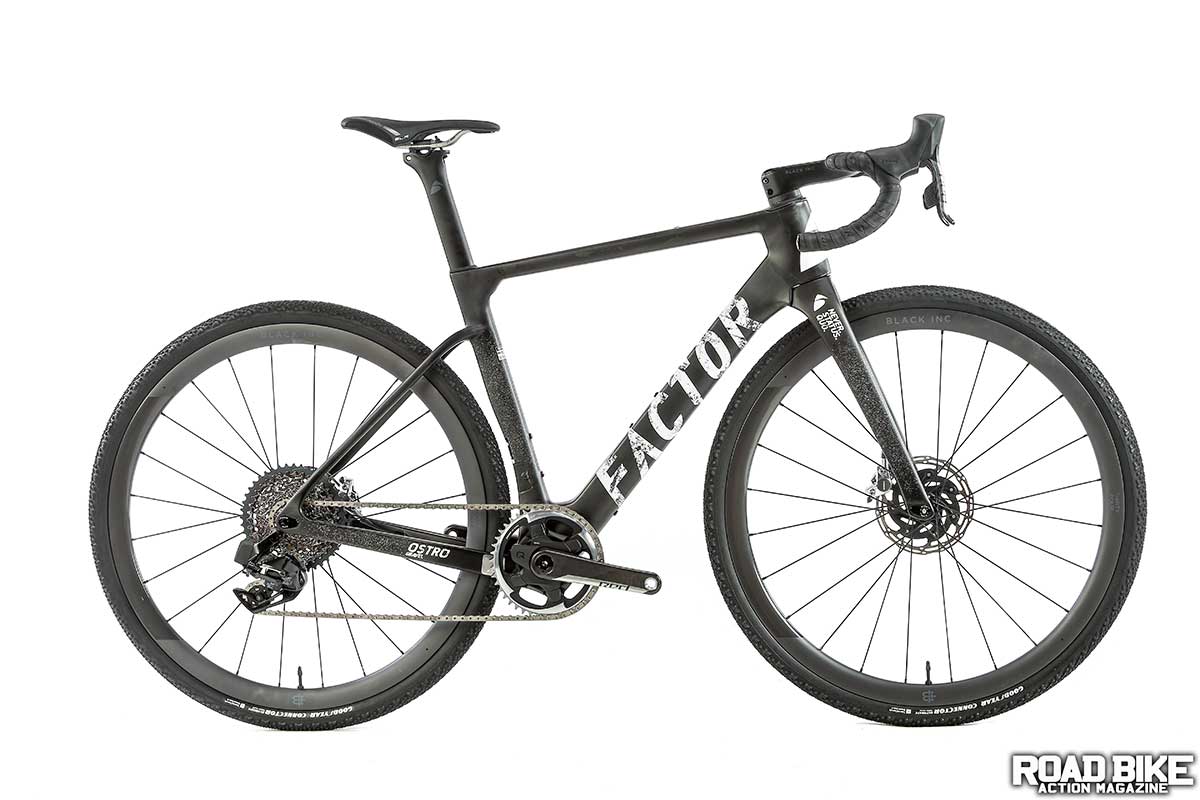 Factor
When looking at the bike's profile, you wouldn't be blamed for mistaking the Ostro Gravel for its road racing cousin the Ostro VAM. Internal routing, truncated-airfoil tube shapes and dropped seatstays give the Ostro Gravel the look of a modern road racer. Atop the bespeckled fork read the words, "Never status quo," which is fitting for Factor's seemingly contrary approach to gravel. There's clearance for up to 45mm tires. 
Our size 54cm Ostro Gravel measured in with a relatively short 101.4cm wheelbase with a slightly steep 72.2-degree head tube angle. A low stack of 55.5cm is paired with a long 39.4cm reach. It's Factor's most progressive gravel bike, but still an aggressive option compared to the rest of the industry. 
THE PARTS
Felt
There are three component builds on offer from Felt, as well as a frameset option for $2499. Builds start at $3549 with a 10-speed Shimano GRX 600 spec and top out at $7549 with our SRAM Force AXS XPLR gruppo with a mechanical Shimano GRX 810 build in between at $5249. Our test bike is spec'd with a 1x 40t chainring with a 10-44t cassette. 
A set of Zipp 303S wheels, which are generally used for riding on the road, give the bike an aggressive look with their 45mm-deep rims. They have a 23mm internal rim width and are laced with 24 aero-bladed spokes. A pair of 38c Vittoria Terreno Dry tires are mounted. 
Zipp covers the rest of the small parts with their house-branded 42cm Service Course XPLR handlebar with 5 degrees of flare, a Service Course SL stem and a 20mm offset Service Course SL carbon seatpost.
Factor
Factor maintains their premium aesthetic by starting their build offerings where Felt leaves off, with a SRAM Force XPLR option, which includes a power meter at $8199. There are a smattering of selective SRAM parts that Factor can provide, which tops out with the $10,899 SRAM Red AXS build complete with road gearing and a power meter. Our test bike falls in between at $9799 with its SRAM Red XPLR gruppo. The Ostro Gravel frameset sells for $5499, and Factor also offers a less racy LS model that has a frameset price of $2700.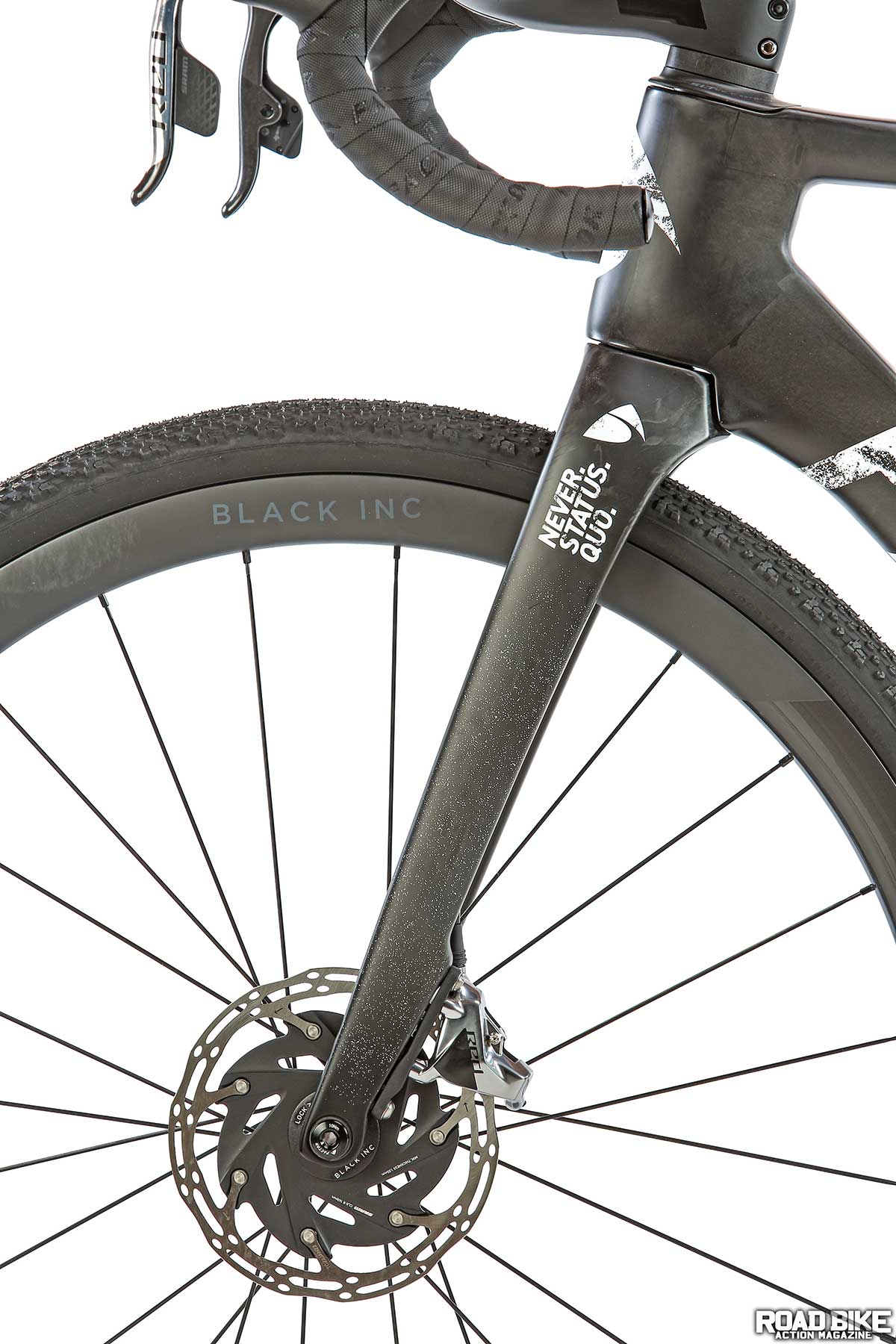 The SRAM Red XPLR spec seems like a deal when compared to the $1100 upcharge for the road gearing. XPLR is SRAM's wireless gravel gearing that was released in 2021. Just like the Breed Carbon, the XPLR spec includes a rear derailleur that is capable of hitting the wide gear range of its 10-44t cassette. However, Factor doubles down on its racing intentions with a more aggressive 1x 44t chainring. 
"Among our test riders, it was generally agreed upon that the Ostro Gravel felt most familiar to a road bike rather than the distinctly progressive feel of the Felt with its slackened front end."
Up front, a Black Inc. one-piece handlebar/stem combo hides the hydraulic hoses, adding to the Ostro's distinctive aero profile. The 42cm carbon bar features 3 degrees of flare in the drops and is tuned for compliance. Black Inc. provided their Thirty Four wheels as well. As the name implies, the carbon wheels are 34mm deep. They have a 25mm internal rim width and are laced with 24 of the same Sapim CX aero-bladed spokes as the Felt. At a claimed 1489 grams, they are just 41 grams lighter than the 1530-gram Zipp 303S.  
THE RIDE
Felt
We put these bikes to the test on a healthy smattering of gravel, fire roads, singletrack, multi-use trails and, of course, a multitude of paved roads in between. Aboard the Breed Carbon, we noticed how planted and in control we felt thanks to the long wheelbase and slack front end. High speeds felt natural. We found ourselves ripping descents, often spinning out of the 40t/10t hard gear. 
Singletrack action provided some rough feedback, as the Zipp 303S were a bit too stiff for our liking. Once swapped out for a pair of Hunt X-Wide rims, they brought us closer to our preferred feel of compliance. The long wheelbase also provided ample clearance for our toes with no overlap in tight switchbacks. 
When it came to climbing, we liked the wide gear range and found ourselves spinning uphill in the 40t/44t gear. When climbs neared 15 percent and got out of the saddle, we found our knees colliding with the rear brake hose that routes externally around the head tube before entering the downtube. While this proved annoying on occasion, thankfully it was a rare occurrence on the dirt. Another niggling issue occurred when we used our seatpost-mounted water bottle. The cage sits high on the seatpost close to the top tube, which makes it difficult to wedge our 16-ounce bottle into and out of place. After a couple of rides, we swapped to a side-load cage, which negated the problem. 
Factor
Where the Felt stood out descending, the Factor was most memorable when climbing. We found ourselves hitting top times on a few of our usual 30-minute sustained climbs. Although the 1:1 gear ratio kept us pushing a harder gear than we prefer, the end result was being able to maintain higher speeds. Because this would prove difficult further into long rides and races, the 1:1 ratio is the maximum we recommend on gravel bikes. 
It was when we were riding on tight singletrack that the stiffer characteristics of the Ostro Gravel emerged. While less stiff than the Felt, the Factor still left us desiring a slightly higher level of compliance.
Descending on the Factor proved it to be no slouch. The Ostro Gravel has quick handling with a minimal amount of feedback that requires riders to have a slightly heightened sense of focus to stay in control. In some sections we felt comfortable taking our hands off the handlebar of the Felt, but we remained a bit hesitant on the Factor.  
While we like the hand positions offered by the one-piece Black Inc. bar, the internal routing proved difficult when it came time to pack the bike to travel. Thankfully, our preferred Scicon Aerocomfort 3.0 travel bag allows the handlebar to stay mounted, but the internal routing just added another layer of complexity to a situation many riders with a standard bike bag will likely face as race day approaches. 
THE VERDICT
From a racing perspective, these are both bikes we'd consider bringing to many of the big events of the year. The Ostro Gravel balances the performance characteristics we like best when it comes to gravel racing. Its quick handling, light weight and premium component spec mesh together well for a complete gravel racing package. The Felt, while stiff in its stock build, benefited from a quick wheel swap that improved its overall compliance. Even as is, we never felt overly shaken on four-hour-plus rides; in fact, the Breed Carbon had us setting downhill PRs without feeling like we were on the limit. 
However, both of the bikes lacked the compliance we desire for all-day efforts at events like Unbound Gravel. And while this can be chalked up to them being race bikes, for all but the highest level of racer we'd recommend finding a more compliant alternative.
Felt's Breed Carbon provides a solid platform for those looking for a mid-range gravel race bike that retains a sense of utility with its wide tire clearance and a bevy of frame mounts.  Among our test riders, it was generally agreed that the Ostro Gravel felt most similar to a road bike as opposed to the distinctly progressive feel of the Felt with its slackened front end. This made the Factor the preferred choice for our longtime racer, while the Felt provided a stable starting point for those new to gravel and off-road riding.  
FELT PUNCHLINES
• A performance-focused build
• Loves high-speed and straight lines
• Better for the non-racer
FACTOR PUNCHLINES
• All in on aero
• Sub-18 pounds
• A premium race machine
FELT STATS
Price: $7549
Weight: 19.22 pounds
Sizes: 47, 51, 54 (tested), 57, 61cm
FACTOR STATS
Price: $9799
Weight: 17.78 pounds
Sizes: 49, 52, 54 (tested), 56, 58, 61cm